Chemical Peels
Chemical Peels
Obagi Blue Peel Radiance
The Obagi Blue Peel Radiance is an effective, well-tolerated peel and is suitable for all skin types – including sensitive skin!
The treatment only takes 15 minutes and had no downtime so you can carry on with your day. The gentle yet effective solution works as soon as it has been administered and your skin will be glowing immediately afterwards, making this treatment perfect for the day of a party or event.
A few days later, your skin may have some mild peeling/shedding as it self-exfoliates –this is normal and is nothing to worry about.
Image Skincare Chemical Peels
Image Skincare is new to Ireland – a cosmeceutical line that will enable therapists to expand their expertise and take their clients to the next level of skin care excellence. Founded in 2003 by Janna Ronert, it raises the bar for all skin care brands, and has become one of the fastest growing skincare companies in America.
Image Skincare, whilst being one of the most effective cosmeceutical lines available, is also one of the easiest to use and to understand! Focused on five skin conditions: Wrinkles, Sun damage, Acne, Rosacea, and Stressed Skin, each collection is colour coded for ease of identification by the consumer, and with a recommended regime of just 4 'starter' products: Cleanse; Anti-Age Serum; Protect/Moisturise; Repair it really couldn't be simpler. These products can then be 'added to' and customised to individual skin care conditions. There is also a convenient one week trial/travel kit of 5 products customized to meet specific skin care needs.
Uniquely, for a cosmeceutical line, Image Skincare is a broad range that is designed to treat all skin types and all ages. Professional Peels range from gentle enzyme and vitamin to the highest grade chemical peels depending on skin requirements. It has the backing of board certified plastic surgeons, chemists and dermatologists.
All products in the range have been developed and formulated by internationally recognized chemists working together with a board of physicians. The products are manufactured in the USA and are unparalleled in their quality in today's marketplace. The Image Skincare philosophy is to use superior ingredients to achieve outstanding results.
Signature Face Lift
Our signature, results-driven skin treatments will change the IMAGE of your skin in just one session. Vitamin C, Alpha and Beta Hydroxy Acids, and gentle yet effective enzymes speed up cellular turnover lightening, tightening and brightening all skin types; even Rosacea and sensitive.
Lightening Lift Peel
Highly effective facial treatments blending lactic and kojic acids with a cocktail of lightening agents to reduce pigmentation and the redness caused by Rosacea.
Wrinlke Lift Peel
This ultra-resurfacing blend of Glycolic and Retinol visibly reduces the appearance of fine lines and wrinkles, leaving the skin firm and revitalized.
Acne Lift Peel
This potent blend of Alpha and Beta Hydroxy Acids contains anti-inflammatory agents to effectively treat and heal acne lesions.
Beta Lift Peel
Powerful non-blended Beta Hydroxy Acid skin treatments quickly and effectively target and improve grades III and IV acne.
Agera Skin Peels
Agera Rx peels represent a major advancement in the non-invasive treatment of ageing skin, acne and pigmentation. These unique no down time peels provide visible results without unsightly skin shedding, redness or irritation. The revolutionary proliferative peels created by Agera® are non-irritating, pain free and cause no down time from skin shedding, redness or irritation. These unique advanced skin  treatments cause significant stimulation of the fibroblasts deep within the skin to produce new collagen and elastin. This proliferative effect on the skin's cells delivers many anti-ageing benefits without any unsightly skin shedding or redness. After only one session, the skin will look clearer, smoother and brighter. For maximum results a course of Agera® skin peels can be combined with medical microdermabrasion.
What does it contain?
The peels contain a unique combination of stable acids. The peels deliver a stable form of Salicylic, L-ascorbic and Lactic acid.
 Is this a superficial, medium or deep peel?
The depth of the peels can vary depending on the combination of peel utilised and the PH of the peel applied. It is recommended that the programme starts with a superficial peel and if and when needed the practitioner can move onto a deeper strength application.
 What skin problems does it claim to treat?
Agera Rx skin peels have been developed to treat ageing, acne and pigmentation.
Agera Rx anti-ageing peels stimulate deep within the skin to promote collagen and elastin production and help eliminate fine lines and wrinkles for a firmer, smoother and more radiant appearance.
Agera Rx acne peels rapidly bring acne under control and dramatically reduce the risk of future scarring. These peels also reduce blocked pores and redness associated with acne conditions.
Agera Rx pigmentation control peels penetrate the skin's pigment cells to gently and effectively reduce the appearance of unwanted discolouration for a more even skin tone.
Should be used by
Trained members of the medical profession only and trained and certified beauty therapist (NVQ level 3 and above).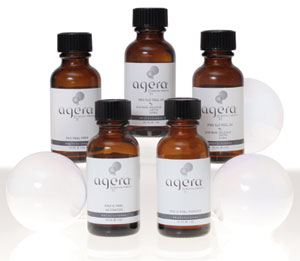 Product range
Agera Rx skin peels containing Salicylic, Lactic and l-Ascorbic acid.
Anti-ageing, acne, pigmentation and general skin improvement.
Individual peel products are available in various strengths which can be used individually or layered in a treatment session depending on the indication being treated.
Peels not to be used
During pregnancy or breast feeding.
By those already on a peeling programme.
In combination with a course of Roaccutane.
If you are allergic to any of the listed ingredients.
Peel program
For optimum results it is suggested that a course of 6 – 10 peels is undertaken, spaced 10 – 14 days apart.Ongoing maintenance treatments performed monthly/bi-monthly are recommended.
 Potential side effects are:
Possible irritation, reddening.
Sensitivity to sun.
Flaking and or dryness of the stratum corneum (outermost layer of the skin) as a reaction of increased stimulation to the epidermal cell layer.
Allergic reaction to perfumes and other products that you have been previously using.
---